The trials and tribulations of tin's escapades & public appearances!
Every Hero has an Origin Story. Read Tin's in the Latest Issue of the Lifestyle MagazineYPPÉ
10.10.2019 - International - Tin is currently covered as one of the 47 creative entrepreneurs in the lates issue of YPPÉ, a lifestyle magazine. The 6-page introspective and sincere piece covers Tin's origins as a kid feeling like a minority among minorities, as a teenager that took upon himself another persona to hide his true self and his neverending quest of finding other likeminded people. The interview also chronicles how he within the same master thesis was disgraced by his own architectural peers, yet gained national recognition by a broader professional community. His backstory of entering higher education is also a peculiar one - it is on the basis of passing the entrance exams to AHO with the worst registered report card of 2010. It is not about who we are underneath, but what we do that defines us. Yes, it's basically everything you need to know about a boy called Tin.
Other subjects in the latest issue of the magazine YPPÉ were Leo Ajkic, Camilla Prytz etc. This issue does not only cover creative entrepreneurs in a biographical sense, but also subtexts such as ethos, escapism and the masks we put on in life. Get a copy at the nearest Narvesen.
Read more about YPPÉ!
Guest Teacher for the First Lego League at Brandengen School
07.10.2019 - Brandengen School, Drammen - When Tin is not rescuing cats from trees, he helps out kids in need. Or to be precise - the kids at Brandengen Elementary school (where he himself used to be an alumni) for their First Lego League competition. It's described as a robotics competition encouraging the kids to build a better future for themselves and maybe their own kids. It coincidently also deals tackling different but important architectural and urban challenges. Some of the kids brought up topics, such as building a youth centre, how include the physically impaired in parks, safeguard swimming areas, and to transform to-be-closed road into a playground. We at the office simply known as Tin are looking forward to see the end results!
Chief Designer of Selvaag's Exhibition at Bydelsdagene Nydalen!
14.09.2019 - Avantor H.Q., Nydalen - Tin served as the chief designer of Selvaag's exhibition at Bydelsdagene Nydalen, working under the director of Development Magnus Skallerud (right in the picture), and property developer Emelie Tornberg. The intention was to showcase different property developers practices that underscored the green shift. Instead of showing anything flashy as BREEAM certified buildings, Selvaag chose a more sober representation of their innovations: their everyday practices such as putting pressure on suppliers to step up their game on maintaining ventilation rather than replacing it, proper storage of furnitures for reusing, system walls/doors etc., and even digital systems for smooth booking, ordering catering, paying bills etc. The point was to showcase the actions that a property developer could do which is leaner management of their furnish or assets in their properties, rather than buying state-of-the-art technological facades or whatever.
Some of the presenters present that day was Elin Børrud, Per Gunnar Røe, Gro Sandkjær Hanssen, Øystein Thorup etc. Other property developers that exhibited their work that day was Avantor, OBOS, Veidekke, Norwegian Property and Storebrand Eiendom.
Announcing the Aspelin Ramm Award - Powered by Tin's mug
15.08.2019 - Youngs Nede, Oslo - OUA just announced the upcoming Aspelin Ramm Award event. The award will be handed out for the fifth time at the Oslo Urban Arena. The students must have received an A or B on their thesis, and must also pitch in front of an audience and an esteemed jury consisting of Marianne Skjulhaug, Per Gunnar Røe, Gunnar Bøyum and Elin Børrud.
DISCLAIMER! Posterboy Tin was coincidently at Young's today with his award at hand, and will not be handing out the award during the event as insinuated in the picture...
Tin Returns for a Third Time at Hurtigpraksis!
30.07.2019 - The Oslo School of Architecture and Design, Oslo - We will be presenting, "Tin - Year Three", presenting the ups and downs of running a company, practical administrative information and not least, the office's approach on societal concerns and competitions. The presentation covered topics such as experiences during studies and worklife, risks of running a small office, and what measures does the office take towards political impact and societal sustainability. Tin also participated as a guest critic on the students first written assignment of this year's Hurtigpraksis.
Arkitektstudenter i Hurtigpraksis, is a student-initiated workshop for students all over Scandinavia on professional practices in the field of architecture. Among the Wildcards this year were Common Ground, Nøysom Arkitekter, Kåmmån, Kolab, Edit/Atelier, Holt O'Brien, Svingen Arkitektkontor. Other offices visited were among others Spacemaker AI, Nordic, Mad, Lala, Snøhetta, Reiulf Ramstad etc.
Part of the Resource Group for Landbrukskvartalet
18.06.2019 - Greenhouse Oslo, Grønland - Tin has been invited to join the resource group for the proceedings surrounding Landbrukskvartalet in Oslo. The group will meet once a month to deliberate the project's goals and ambitions, or more specifically, the different social stages and important functions of Landbrukskvartalet. Tin's knowledge into the project covers many areas of interests, such as being one of the first tenants/members at Greenhouse, his theory on coworking spaces and social, professional and commercial models surrounding them, and his practice related to working societies, knowledge districts and programming indirectly and directly related to these.
Aside from Tin, the group consists professionals inhouse, from the neighborhood, hospitality services etc. such as Frode Rønne Malmø & Maren Bjerkeng/Aspelin Ramm, Jonas Vesterhus/Space Group, Bernhard Bisseth-Hallandvik/Enterspace, Einar Kleppe Holthe/Fuglen, Anders Nohre-Walldén/Grønn Byggallianse, Runar Eggesvik/Trøbbelskyter, Jarl Solberg/Nordic Black Theatre, Karen Sofie Sørensen/Bruket, Helene Gallis/Nabolagshager, Linnéa Svensson/Greener Events.
Tin's stint with the Vietnamese Prime Minister, at the Embassy and on National TV!
25.05.2019 - The Embassy of Vietnam, Norway - Tin was cordially invited for the meet & greet with the Vietnamese Prime Minister Nguyen Xuan Phuc at the end of his tour in Norway. The event was broadcast on Vietnam's premiere news channel VTV.
The goal of this meeting was for the PM to meet the Vietnamese expatriates. He encouraged the expats to continue learning from Norway's scientific and technological knowledge, but not lose sight of Vietnamese culture and language. When Tin was asked by the other attendees at the event if he managed to preserve his cultural heritage and language, he spoke softly: "to succeed in another country, is also to lose some of our own culture". Tin was invited among 8 other young students and knowledge workers that had succeeded in Norway. Yet, he was only 1 out of 2 Norwegians of Vietnamese heritage present, among 50-60 attendees including ministers and the PM's entourage. The reasons as to why a Norwegian and non-expat, was invited to an all-exclusive Vietnamese expat event, remains unclear to this day.
Other activities during the tour, include meeting His Majesty King Harald V, the Norwegian PM Erna Solberg, the companies Kongsberg Maritime and Pharmaq etc.
SITRAP to encourage Entrepreneurial Ventures and Competitive Spirit at NMBU - with Tin as Contact Person
21.05.2019 - NMBU, Ås - Tin will serve as main contact person as SITRAP will set up a support line for students, with the ambition to answer to the students' general challenges. A place outside the curriculum or student organisations that they can seek counsel or talk about every day, yet professional concerns. Based on some industry observations, it is also important to encourage entrepreneurial ventures and competitive spirit among the students.
The Report for Lørenskog Station Area is out! Edit/atelier & Tin (f.k.a. Gattaca) served as 1 of the 3 teams shaping it!
09.04.2019 - ByLIVsenteret - The report is based on work done in Aug-Oct 2018, with the goal of securing a positive long-term development of the station area. The exhibition of the proposals were sought-after by the inhabitants and garnered positive response. The evaluation committee for this work has arrived on 7 guidelines for it, whereas 3 of them was recommended to be executed very quickly. The guidelines has been discussed thoroughly within the professional groups at Lørenskog municipality.
Read More!
The Report, click to downlad!
Lab Entreprenør & co. won the Competition for the new Regional Parliament building of Hordaland!
01.04.2019 - Bergen, Norway - The team of the proposal Penrose Staircase consisted of Lab Entreprenør, NSW, IARK, Cubus, HUS and Sweco. Tin participated in the winning team, under none other than NSW! The office's contributions consisted of simple stuff, such as conveying internal narratives on programmatic mix, logic and content, in both text and isonometrics. Tin also authored and illustrated some models on emerging real estate practices (from year, hour to minute-based leases), logic of flexibility, reduction of office spaces, and CO2 emissions. The winning bid were reviewed on two measures: conceptual design and cost by two different juries.
Jostein Fjærstad, the real estate director in Hordaland county, hails it as "the best architectural solution both externally and internally, based on the tender documents". In addition, he believes that the winning contribution the "Penrose Staircase" is clearly the best in highlighting the activities of democracy and the county municipality for its inhabitants, which was one of the competition criteria.
Other competitiors were among others CF Møller, Nordic, Mad, Haptic and each of their respective collaborators etc. etc.
Midcrit for the Interdisciplinary Mastercourse at NMBU
14.03.2019, NMBU, Ås - The course is led my Elin Børrud and for many the midcrit signifies the moment of truth. Tin partook in the session, commented and gave critique on the master theses presented that day.
Through their common case study Kristiansand, students of different professional backgrounds can more easily relate to one another and partake in each other's discourses/master theses. Interdisciplinarity through familiarity?
Elin Børrud & Tin Phan representing SITRAP for the Applicants Seminar of SFU 2019
07.03.2019 - Bergen, Norway - Diku hosted a seminar for the triennial call for Centre for Excellence in Education (SFU). Both Tin and Elin at SITRAP attended a 7 hour long seminar to understand the hallmarks of a good SFU application. Here we got insights from the international panel, student representatives, and other successful centres etc. Attendees came from all over the country from various universities and univrsity colleges!
As mentioned before, Diku's call for SFU ideas are set 3 years apart, where last time SITRAP made the final rounds, where only 5 out of 22 centres were chosen.
The 2nd Place that Defied All Odds - Knoppskyter still in the Running!
21.02.2019 - Horten, Norway - There is no such thing as a silvermedal in architectural competitions, yet Knoppskyter's notoriety has exceeded all expectations of any runner-up. During a hailstorm of articles after the announcement of the winner, Knoppskyter was strangely enough still mentioned as a contender even though it lost. The politicians in Horten and the harbormaster Espen Eliassen wants to bring the team behind Knoppskyter back to the fore, and applauds the entry for giving the city another dimension in business development. The conceptual proposal was hailed as among the best within the competition, and Horten are currently discussing alternate locations for realisation. Not bad at all!
Odd Rune Nærsnes of Horten Industripark, developer in the Knoppskyter team (NSW, SLA & Tin under the moniker Gattaka.. the hell?), calls it a necessity for the greater good of Horten. "It's not the typical harbor development, but it's the future!"
Read More!
Archived articles on the competition!
Tin joins the Program Committee of OUA for yet another Term
12.02.2019 - Erling Fossen's excuse of an office, Oslo - Tin was cordially invited to join the program committee of OUA as the youngest member for yet another term. There will be some major changes not yet announced, so keep an eye out for the OUA announcements to come. First up on the chopping block was death of family values and coliving. Wow, talk about going all out on the first meeting.
From the left (women first): Linnea Svensson, Marianne Skjulhaug, Aga Skorupka, Erling Fossen, Sverre Landmark, and Tin Phan. Erling ain't getting younger, and sees the importance of bringing on board a younger generation of professionals to lead on - good for you Erling! You can start your transition over to retirement with ease, we got your back!
12.02.2019 - Rådhusgata 27, Oslo - We silently moved in with NSW last December, based on a successful venture together and to encourage further collaboration whenever suitable for both parties. Within a couple of weeks, we've already eclipsed 4-5 engagements. True patrons of young offices don't put on elaborate publicity stunts, campaigns, shows or fanfare for the public eye. They simply just offer relevant projects, good terms and seize the moment when great contributions to society can be made jointly. Plain and simple.
.
Elon Musk once confided that he wouldn't be able to mount another rocket launch if the 4th failed. For us, 2018 has been filled with many prolific projects, yet the competitive & risqué nature of these can take its toll on any young office, and we're no exception. We'll break the silence and salute you @nswarkitektur🙌, for inviting us to once again take on many more dreamy launches - the sky is the limit!
Tin has been Hired at the Norwegian University of Life Sciences for the SITRAP project - led by Elin Børrud
30.01.2019 - NMBU, Ås - SITRAP is short for Center for Integrated, Transdisciplinary Education in Planning. The center's overarching goal is to improve teaching methods and transdisciplinary practices among students within the field of planning - through incorporating academia and practice early on. Tin's role as a project employee will be to initiate and establish the center's core activities, presence and goals. Aside from SITRAP, he will also partake in some teaching duties & desk crits, discourses on academic level of master courses, and delightful lunches at NMBU.
Tin has been in negotiations for a position as early as in November 2018 and was formally on board early January - sorry for the late info. The project is led by professor Elin Børrud, and currently under the Faculty of Landscape and Society (LANDSAM) of the Norwegian University of Life Sciences (NMBU). Don't worry, this is a 50% position for one year, meaning the office will go about its bizniz as usual, we'll just work harder!
1 out of 36 Wildcards exhibited at the OAF - History in Practice Launch
24.01.2019 - Arkitektenes Hus, Oslo - The exhibition was presented at the launch of OAF's spring program, History in Practice. The brief for each of the offices was simple: send a picture + text that inspires them. Tin was among the 36 offices exhibited. It was curated by Svingen Arkitektkontor and Holt O'Brien.
Rebranding Gattaca to Tin. Relax, we're just Changing the Name, not the Office!
21.01.2019 - The office, Norway - All Tin's work, will now go under the office simply known as tin. Since the inception of the office in June 2016 we have gone under many different monikers such as the coworking guru, mr.research, the office that refutes to do architecture, the guy that wrote something at AHO, Lord Commander, Azor Ahai etc. We want to point out and celebrate the official office names and font logos throughout the years: ASSEMBLE! (2016-2017) and Gattaca (2017-2019).
We also want to come clean and clear the air once and for all: the office has always been Tin and it will always be Tin, the one-man-office. Yet, we still want to reserve our right to address ourselves in third-person and in plural. Yes, there is only one author of this office - yet, Tin's body of work is the sum of many vivid collaborators, contemporary voices, and historical opinions. It is in-between our words, in the margins, and all over the pixels of each diagram we produce. Tin's, or OUR body of work, strive to be the conscience and reflection upon a greater collective.
Lecture on Writing Processes + Desk Crits at NMBU
17.01.2019 - NMBU, Ås - Tin held his first lecture at NMBU on his own experiences of writing a master thesis. Although his work would go on the become an award-winning thesis, it was not without hickups, doubt nor was it pitch perfect - a myth Tin firmly shot down. Many great things, come from small beginnings, and as he himself stated: he just wanted to study innovation cultures. It would go on to touch upon major topics such as architecture, urbanism, organisational theory, innovation policies, social science etc. The presentation encompassed themes such as processes, research design & chapter structure, innovation & concept of lateral thinking, methods, and direct examples from his own thesis. Desk crits were also given.
The masterstudents came from different departments, such as landscape architecture, property & law, urban & regional planning, construction engineering etc. The course is led by Elin Børrud. We'll come back to what exactly it is Tin is doing out in Ås!
TO BE CONTINUED!
2nd Place in the Horten Harborfront Competition - with NSW & SLA!
16.01.2019 - HS4 Ytre Havn, Horten - Recognition shared with NSW and SLA. The project received high remarks by the jury as undeniably the most contemporary proposal for the site, its analytical thoroughness, modern approach to architectural design, most convincing conceptual proposal, clearest use of programmatic functions, and treatment of identity. Most notably, was how Knoppskyter challenged the popular belief and changed the jurors perception of blindly developing housing projects on the harborfront as first development stage.
The jury was indecisive between the 1st and the 2nd place, as the minority of them felt that Knoppskyter was the actual winner. On the other hand, they did agree upon that both of them had given major contributions to the competition, separately and collectively, in increasing attractivity in the city and that both proposals does not exclude one or the other. Regardless of the competition, it was recommended that the municipality should put efforts in realising it anyways on an alternative site, for the greater good of Horten.
The jurors report can be read here.
Read the jurors decision in this article.
Press: Hard konkurranse om utvikling av havneområdet, Slik kan stålparken bli, Alle de fire forslagene til den nye Stålparken kan bli skrotet, Stålparken i Havna
Presenting for DogA & Rjukan kommune
16.12.2016 - Tøyen Startup Village, Oslo -Presenting, "Coworking Spaces", for the Norwegian Centre for Design and Architecture (DogA) officials and initiators of a coworking space out in Rjukan. The presentation consisted of a guided tour around Tøyen Startup Village and talk about DogA's initiative, Levende Lokaler.
Presentation & Meeting with DNB Eiendom
15.12.2016 - Tøyen Startup Village, Oslo -Meeting between ICT Norway, Hjellnes Consult, TSV amd DNB Eiendom. Discussions around the theme coworking was brought up as to what impact it may have on existing real estate practices.
05.12.2016 - Postgirobygget, Oslo - Tin was invited over for breakfast to present, "Coworking Spaces" for the head honchos at Entra, a Norwegian real estate company.
Exhibiting at the Oslo Architecture Triennale
27.10.2016 - Arkitektenes Hus, Oslo - Under OAF, we will be exhibiting, Perspectives of Oslo, a joint project by Gerrit Mosebach, Trine-Lise Sonne as project managers, with Tin Phan, Miles Hamaker, and Alis Chetreaneau.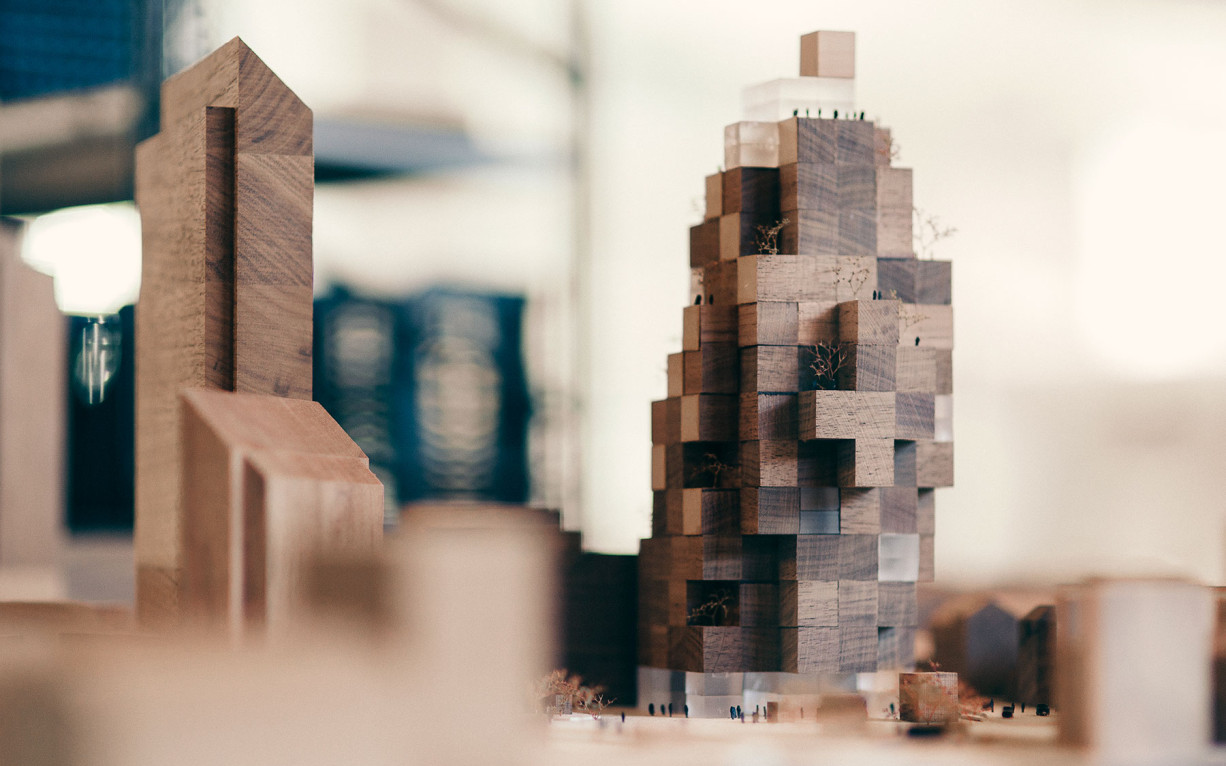 Presenter of the week at Bar Talk
14.10.2016 - Dark Arkitekter, Oslo - Presenting, "The masterpitch, and coworking 2.0". Bar Talk is a session of professional talks within the realm of societal issues, urbanism and architecture. Initiated by Dark Arkitekter.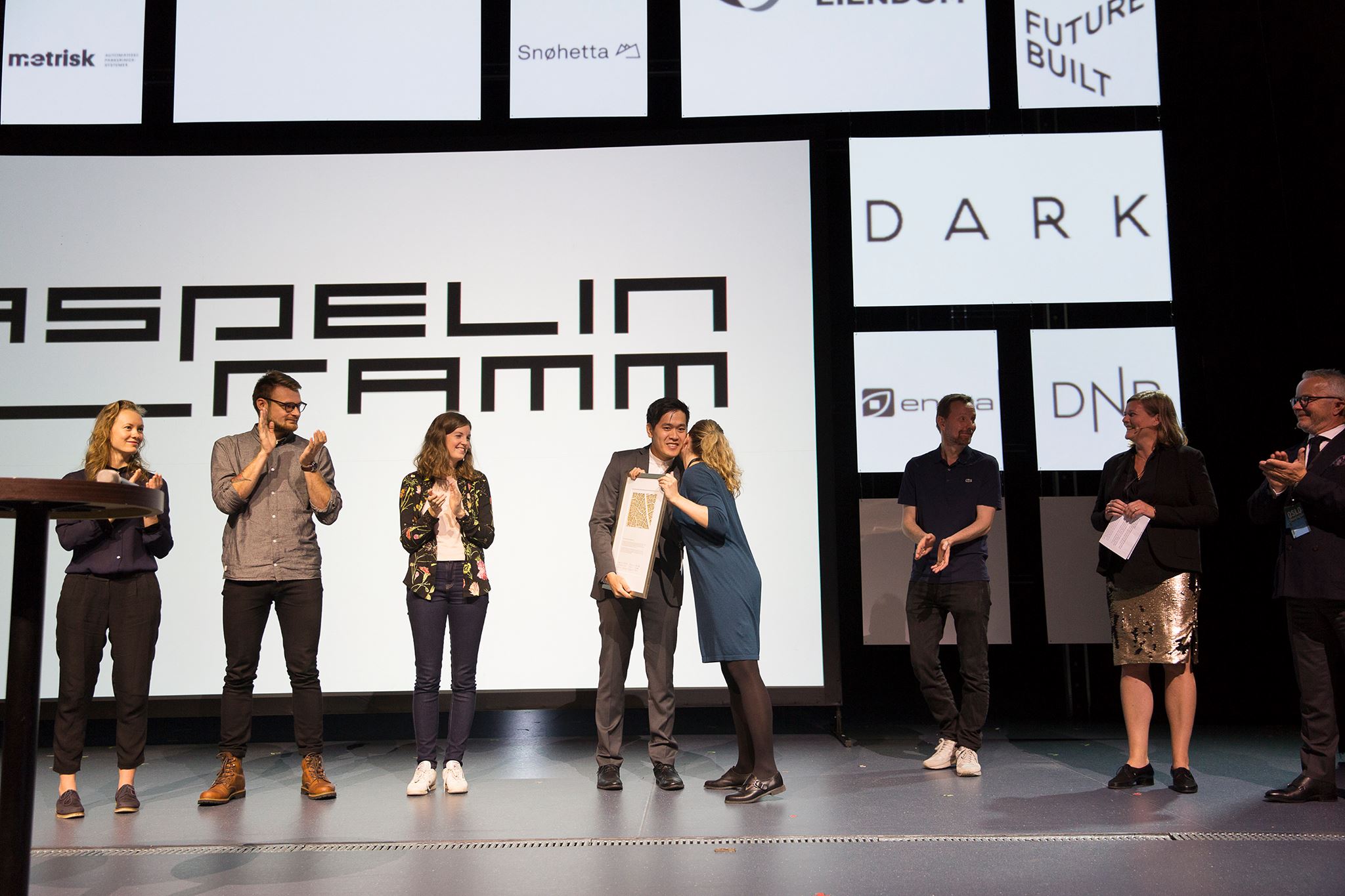 Winner of the Aspelin Ramm Award 2016
28.09.2016 - Folketeateret, Oslo - Against all odds, Tin was chosen as one out of four finalists for the Master Pitch, in tough competition with students all over Norway. Here Tin presented, won, and became the 2nd recipient of the Aspelin Ramm Award for his master thesis, "Coworking Spaces - From Industrial Complexes to the Fourth Industrial Revolution?". The famed Sassia Sasken approached Tin and gave him a firm handshake stating; "It's an honor to be referenced in your master thesis!". The jurors statement:
"An entire real estate and urban development industry, and research community are wondering and excited about how changes in the patterns of how people work and their preferences, not least how young people either on their way in, or at the beginning of their career will affect society. (...) The candidate has captured the essence of the city's current development, and courageously chosen a thesis that in many ways are groundbreaking. We applaud this courage, but more importantly, the precision and critical reflection in the thesis and presentation. Knowledge production and discussion on how we organise and plan for emerging challenges and ideals in the working society has just begun. Tin Phan's master thesis has set this field in motion."
There is only one recognised award given at the Oslo Urban Arena, and the conference is widely considered the biggest platform for urban dicourses in Norway.
Presentation at the Coworking Innovators Jam
17.09.2016 - Tøyen Startup Village, Oslo - Presenting, "An Architectural view on Coworking Spaces", at the pre-launch of Tøyen Startup Village. Other presenters were the Marianne Borgen, mayor of Oslo, Fredrik Winther, managing director of Oslo Business Region etc.
Establishing of Tin's Office & The Commission of a Lifetime - Mesh Expansion!
15.06.2016 - Mesh, Oslo - Tin establishes his office under the moniker, ASSEMBLE! with offices at Mesh. If we rewind 2 weeks back: The office also acquires the coveted top-secret project of Mesh, on of the case studies in his master thesis. On the contrary of what the AHO guest critics felt about his thesis or lack of enthusiasm for it, the Mesh CEO Anders Mjåset & co. sat in the audience and felt otherwise. Within 30 seconds they offered Tin to transform Tordenskiolds gate 2 (9-storey building), and look into other prospects.
Diploma Review - Thesis ahead of its time, or a lazy one, & lack of ingenuity?
02.06.2016 - The Oslo School of Architecture and Design, Oslo - Tin Phan presents,defends and receives his M.Arch. diploma for his master thesis, Coworking Spaces - From industrial complexes to the fourth industrial revolution?
The thesis that would go on to become an award-winning piece of research, and spawn countless of lectures in academic and corporate settings, was met with luke-warm-reviews for its supposedly lack of architectural design and critical thinking, and completely overlooked at the AHO Works exhibition. The International panel consisted of Nikolaus Hirsch, Svein Lund and Martine de Maeseneer. De Maeseneer was especially dissapointed, as she posed the oblivious question to a theoretical assessment; "where is the design project?"
Part of the Web Editorial of Magasinet KOTE
03.04.2014 - 01.02.2015 - Oslo - After Tin's first submission in Magasinet KOTE, Tin was invited to join the web editorial as a contributor, writer and editor, and later on, as treasurer (Master of Coins) for 2 terms.
Tin's contributions consists of interviews, research articles, movie reviews, analysis and others. This venture serves as his first-ever meeting with treatment of theory, texts, and urban discourses.
First publishment in Magasinet KOTE
22.05.2014 - Sukkerbiten, Oslo - As a student Tin's article, "Why So Serious?" gets greenlit for the 4th edition of Magasinet KOTE, Allmennhetens Rom.
Magasinet KOTE is a magazine encouraging landscape, urban, architectural and societal discourses among students and other professionals.
Pictures from the release party can be seen here, more importantly, the article can be found here (page 41).
Aftenposten Article on Sixty Feet Under
03.01.2014 Aftenposten, Oslo -Following the interest by local government authorities, the student project, Sixty Feet Under, gets issued with a spread in Aftenposten and on the radio. The other half of the project, the exchange student Pittawat Chittapraneerat (Jeen) had already left Norway, and was not present for the accolades the project received.